WORLD INDOOR ROWING SPRINT SILVER MEDALLIST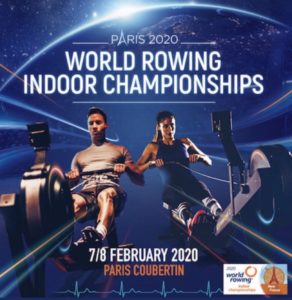 On February 7th at the State Pierre de Coubertin in Paris, Heidi, the February 2020 client of the month, lined up alongside some great athletes including the favourite, Margit Haahr Hansen from Denmark.
Heidi stormed out of the blocks and hit the front. She held that lead until the last 100m where Hansen pushed through and finished in an outstanding time of 1 minute 36.8 seconds for 500 metres. Incredible when you think these athletes are over 50!
Heidi from Minerva Bath Rowing Club finished in a time of 1 minute 37.5 seconds and collected a well deserved silver medal. She was ahead of Malin Faraasen from Sweden who came third with a strong 1 minute 38.9 seconds.
THE SPRINT QUEEN FROM THE WEST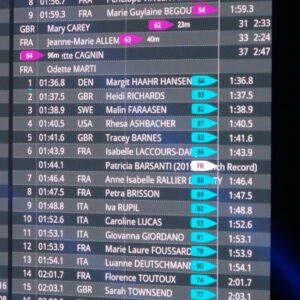 silver medal for Heidi
In early November, Heidi contacted Tony Larkman Personal Training to help  her peak for the 500m sprints at the World Indoor Rowing Championships in February.
Heidi has some pedigree. She is currently the British record holder for 1000m for the 50-59 age group with an impressive 3 minutes 32.8 seconds, the British record holder for 100m (17.7 seconds) plus the minute British record with a distance of 321 metres.
Heidi was also the 2018 British Champion over 500m but didn't compete in 2019, focussing her efforts on the Worlds in February.
WEIGHT TRAINING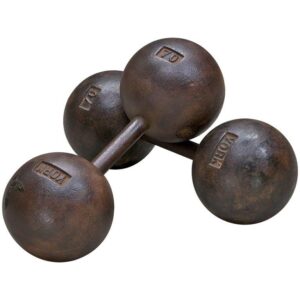 Heidi is fairly new to the sport of rowing.
She initially became involved in the sport when a personal trainer commented on her good technique on the Concept 2 indoor rower (see GB Rowings article on Heidi).
Since then, Heidi has been training on the water (as well as breaking indoor rowing records) and is currently aiming for a win at the Henley Masters Regatta in July. She also has one eye on the World Masters Rowing Championships in Linz. Austria in September.
I advised Heidi that development on 2 areas was required to improve her physiology and therefore, row faster.
Heidi has power and speed but lacked a high maximum load. Plus she was fading in the second half of the race. (Everyone does on a 500m sprint, but it is the rate that Heidi was fading that had to be addressed).
She embarked on a compound weight training programme lifting twice a week and monitoring each workout. The improvements were noticeable after the first week.
From November to early March 2020, the February client of the month doubled the weight she lifts for the deadlift.
And the bench press and rows were up by a third.
The one area that is improving at a slower rate is the press above the head  due to an old shoulder injury. However, through correct exercise prescription and patience, the strength and range of movement is steadily increasing.
ENDURANCE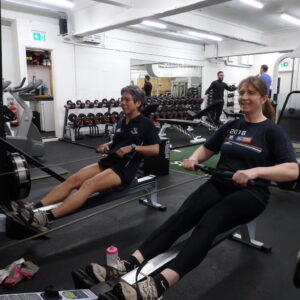 Heidi on the right training with Ching
Endurance (aerobic fitness or steady state) training is not something you associate with sprinters.
But the 500m indoor rowing race does rely heavily on the body flushing out lactic acid from the body. The better your aerobic (fitness) conditioning, the quicker the body clears and utilises lactate and the faster you can go.
It is also an area that many individuals fail to develop when signing up to a personal training programme.
So we added some long distance low intensity sessions into the programme which Heidi reluctantly agreed too (these workouts aren't her favourites).
As a result, we tested her over 500m in January and she achieved a personal best.
A combination of her natural ability, weight training and aerobic training enabled Heidi to hold those high octane splits for longer.
THE FUTURE
Having achieved an outstanding performance at the Worlds, Heidi is currently training at Minerva Bath Rowing Club on the water.
Once the regatta season is over and after a well-earned break, Heidi will be back on the indoor rower (ergo) and aiming to win gold at the World Indoor Rowing Championships in February 2021.
Heidi's commitment to success in achieving her goal by winning that silver medal plus her approach to training has motivated those around her to achieve their own goals. Even the trainers at Stanza Fitness have been impressed!
And not to mention, Heidi is a thoroughly nice person.
Congratulations Heidi on a well-earned world silver medal, a real French baguette and February 2020 client of the month!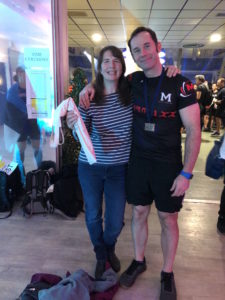 The Bath medallists at the World Indoor Rowing Champs