Bronze medal to finish the indoor season off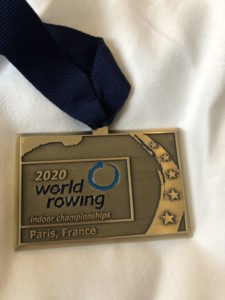 Not my fastest time 6:19.4 – but a bronze medal nonetheless at the World Indoor Rowing Championships in Paris to finish the indoor season off. I played around a bit with my training and ultimately paid the price. However, no excuses, just a learning curve. Even at 50!
The winner, Andy Benko from Chicago, USA was out on his own and won comfortable in an outstanding time of 6:07.2. The world record holder has set the bench mark very high in the 50-54 age category and the rest of us must do better.
Andy is an outstanding indoor rower and has developed much power as a former track athlete. He is an example to anyone over 50 who thinks they are too old to exercise or compete in sport. His world record time of 6:01.7 would see him knocking on the door of top national crews.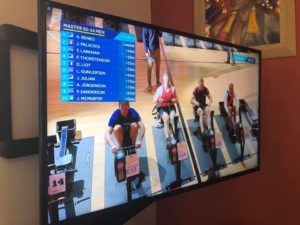 friends and family watching on tv in England
A worthy silver medallist was Jorge Palacios from Peru who beat me by 0.7 seconds in 6:18.7. 4th was American Peder Thorstenson who was 2.1 seconds behind me.
Training commences in March for the 2021 World Championships and I'm excited to be starting the programme 11 months before the race. I generally start training towards the end of the summer. I hope this extra period of strength and endurance training will give me the edge to push closer to the gold.
It will be the first year where I have lifted weights continually and I'm hoping to break some British distance records in the progress in the 50-54 age group.
A big cheer to the MAD Team and their continued support. They are the best indoor rowing team in the world.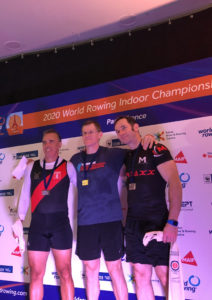 left to right: Palacios, Benko, Larkman
A month of transition before training starts again and a better coloured medal next year!