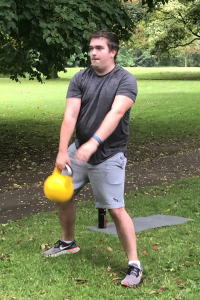 Leon is the July 2020 client of the month.
Leon, who is starting his final year at the University of Bath made contact  in June with a goal to regain fitness, strength and mobility after months of lockdown inactivity.
It's unusual for me to award a client of the month to someone after only 4 weeks of training, but the transformation has been spectatcular. Leon, a former rower at Westminster School and rowing coach at the University of Bath now plays American Football.
In order to achieve the strength and explosive fitness required to play American Football, we planned a programme to transform Leon into an athlete to withstand the physical demands of the game and increase his power and speed.
AMERCIAN FOOTBALL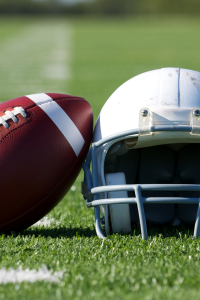 American Football has a huge following from across the pond and is growing in the UK. The game evolved during the 19th century in the US with a mixture of soccer and rugby. It is brutally hard and strength and conditioning is vital for longevity in the sport.
Having previously had some experience of training UK base American footballers in the past (both were wide receivers), I felt I had an understanding of the training required to benefit Leon.
Leon's position is with the offensive/defensive linebackers. He has to be aggressive, strong, fit and fast. These are the areas where you defend your territory or rush the quarterback depending on your position in each game. And you have to deliver some big hits as well as take them!
So, quite a bit different from rowing on the river!
TRAINING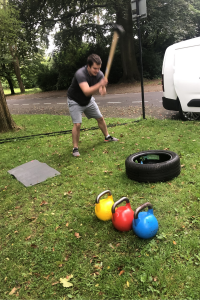 Training is the easy bit for a former rower. Rowers enjoy training. However, the type of training required for an explosive sport is very different from the repetitive movement of rowing.
Initially, developing full joint mobility to support the cartilage, ligament stability and tendon strength are crucial. This form of training ensures movements such as the squat and deadlift can be performed correctly thus reducing the risk of injury.
Training has consisted of compound movements, initially with kettlebells such as Swings and Cleans. Bodyweight exercises including TRX Suspension Trainer and gym rings are used to increase stability in the joints and improve strength. Core training has also been at the centre of the workouts.
Stretching and flexibility is a big part of Leon's programme. With all the time spent strength training, it's imperative that Leon has full range of movement to enhance mobility and prevent injuries hampering his training.
Long runs are not great for big athletes. So Leon has purchased a second-hand Concept2 rowing machine. In my opinion, this is the best cardiovascular fitness machine you can use, especially for bigger athletes or those with ankle, knee or hips issues. It's a full body workout and you can vary sessions from long slow steady state training to HIIT workouts.
The training will shortly progress into 'big lifts' using barbells and bumper weights. Exercises such as Deadlift, Power Cleans, Push Jerk and Front Squats will be introduced into the programme.
And the final piece in the training programme puzzle will be hill sprints, plyometrics, resistance movement bungee work and speed drills. These types of exercises will compliment Leon's strength and produce power.
DIET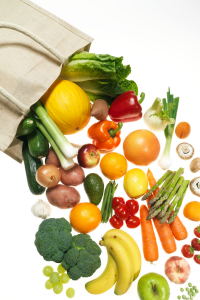 As I point out to every client, you cannot outrun a bad diet. Diet is pivotal to the success of a programme. You can train multiple times per day, but you will never reach your full potential with an inadequate diet.
Leon is following intermittent fasting for health. He is eliminating sugary processed foods and increasing his fibre intake to great success. Another example why Leon is the July 2020 client of the month.
The diet is based on organic vegetables, fruit, meats and wild fish with a reduction and eventual elimination of processed foods.
Leon has increased his vegetable intake, omega 3 foods such as salmon, nuts and whole natural grains. To support the connective tissues (ligaments, tendons and cartilage), collagen-boosting foods such as organic bone broth are added to the menu.
There are no shakes or artificial supplements included in the plan. Only natural foods as nature intended. There are many positive reasons to shop local and organic and focussing meals on plant-based foods. I am not a vegan or vegetarian, but I do know that organic vegetables and fruits are the basis of any successful diet.
FINAL YEAR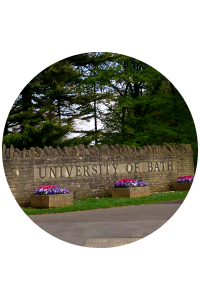 With Leon coming back to Bath to finish his degree in a pandemic, it's going to be a challenging year for him.
It is impossible to determine if Leon will be able to compete in American Football at Bath this year due to restrictions, but training, good diet and a healthy lifestyle will stand him in good stead to stay active, energised, positive and motivated.
Keeping the training momentum going throughout the year is key. Even with the stress of exams, deadlines and a pandemic, keeping fit and healthy will make all the difference.
Congratulations to Leon, the July 2020 client of the month. The quickest person to achieve this great accolade.