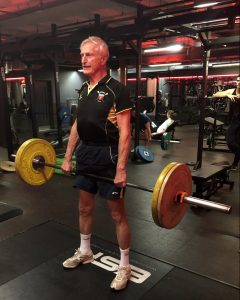 KLAUS – FEBRUARY CLIENT OF THE MONTH:
What can I say about Klaus that hasn't already been said. Klaus, an Olympic Gold Medallist from the 1960 Rome Olympics winning a gold medal for Germany in the rowing coxed fours.
In 1958 and 1959, Klaus was a European Champion in the coxed pairs and won a bronze medal in the coxless fours in 1961.
At 6 feet 4 inches, 78 years young and still at his race weight of 87kgs, Klaus stands out in the gym. A tall silver haired charismatic gentleman with incredible energy, Klaus continues to row competitively and is a multi Masters World Champion at various boat categories.
TRAINING:
Klaus continues to train daily on the water and in the gym. What has made him client of the month for February is his effort and attitude towards a new phase of training.
The idea behind the circuit training is to get Klaus moving faster having performed some heavy compound lifts during the autumn and winter.
I devised some exercises that challenged Klaus working predominantly on his antagonistic (opposite to rowing) muscles with lighter weights and higher repetitions. The idea is to improve his lactate threshold levels combining strength elements of training with continued high intensity efforts to boost his race pace fitness levels.
This type of training is difficult. However, Klaus has pushed through showing everyone that age is no barrier to a strong fit body.
The recovery periods are set so that he has enough time to rest between circuits thus allowing each lap performed at the correct intensity and ensuring proper movement patterns and technique. This is essential when performing a functional fitness and strength circuit and only a select few can perform such training whilst maintaining quality.
There have been a few disgruntled moans as Klaus doesn't like working on the non-rowing muscles in his body, but he knows it's good for him, will make him quicker, improve strength, fitness and help prevent injury.
A LEADER, WINNER AND A GENTLEMAN:
What makes Klaus unusual and a role model is not that at the age of 78, he continues to train, race, win and set new records and high standards. It is the energy and enthusiasm he exudes in the gym, on the water and in life.
You always know when Klaus is around. His energy, leadership and presence makes him a worthy client of the month for February.
He will continue to win more medals, more championships, set new fitness records and become a double member of the month in the future and that focussed winning mentality, healthy lifestyle and positive attitude will continue for many years.
A  leader, winner, gentleman and role model. Well done Klaus. You are an inspiration to us all.
Klaus Riekemann – The  Secret Olympian
[/et_pb_text][/et_pb_column][/et_pb_row][/et_pb_section]