One of my favourite parts of every month is announcing who has scooped Client of the Month. Not only is it a chance to celebrate the perseverance and dedication of my clients, but it's also a great way to get to know you all a little better as well. Now, without any further ado, it's with great pleasure that I present Mr Kevin Horne as the December 2020 Client of the Month.
This inspirational man isn't just incredibly athletic, he's also a true gentleman and a top human being. I genuinely can't think of anyone worthier for the December 2020 Client of the Month. Even when Kevin's holiday cottage business was hit by lockdown and he had to miss a few sessions, he never lost his positive outlook on life. He's been an absolute joy to work with.
Kevin came to me in August, contacting me after reading my blog on training for rowing. He wanted me to help him improve his speed over 2,000 metres on a Concept2 rower. As anyone who's completed a flat-out 2K on the rower will know, it requires a brutal mixture of power, strength and endurance. If you haven't completed one before, imagine running as fast as you can up a hill for about 7 minutes to get an idea of just how tough it is.
Kevin's previous best 2K time was 7 minutes and 14 seconds, which he achieved in March 2020. However, he wanted to improve his time even further.
KEVIN'S HISTORY
Kevin is no ordinary man. He has a background rich in athletic achievement, telling me, "the whole family were big on Chelsea and Surrey cricket. Summer weekends especially were spent playing cricket and football in the winter".
Strangely enough, Kevin and I were actually brought up in the same area of South West London, so we support the same football and cricket team. We also had a very similar upbringing when it came to sports. Kevin says, "I was fortunate that the PE teacher just happened to have competed in Javelin at the 68 Mexico and 72 Munich Olympics. He persuaded me aged 11 to pop along to the local athletics club during the summer months and try out a few events. I ended up competing for Hercules Wimbledon Athletic Club".
I was also fortunate that my own PE teacher had Olympic experience, having won a Silver medal in Moscow. He was the one that convinced me to take up rowing at Barn Elms Boat Club in Putney, even though my first love was football. Meanwhile, Kevin played football and rugby during the winter. Then, at 14, he had his first taste of winter training with weights. He attended Crystal Palace and trained with a group of field athletes as the only non-international. Being exposed to this level of expertise was invaluable. Kevin quickly picked up the technical side of Olympic and Powerlifting, which has stayed with him ever since. It was at this point that Kevin decided to take up discus throwing seriously.
Kevin ended up bagging several championship wins in the Southern counties – and even at national level as well. He managed to achieve some of the championship's best distances during his time competing.
Even more impressively, Kevin also gained a few international vests along the way as well. However, during the 1980's there was very limited funding for most sports, so competing was done under an amateur banner. While he gained the Sports Aid Foundation Grant (now known as the National Lottery), Kevin still had to get a job. This had a detrimental affect on maintaining his training levels and performance.
Starting work at 6AM, finishing at 2PM and then beginning his training for five hours per day was only ever going to end in one way. Unfortunately, this was the case for many of the competitors in the 80s. Rowers, such as myself, were out on the water at 6AM for the first workout of the day. Then, it would be off to work before getting back on the water at 7PM until we could get home for 10PM. Burn out guaranteed! It's little wonder than GB rarely won until the National Lottery began funding athletes in 1997. Since that point, GB has always been near the top of the medals table.
After his time competing, Kevin began heading to the gym. "I always ended up with the local powerlifters, sometimes in spit and sawdust places," which Kevin declares as his favourite gyms. So old school! Kevin also continued to meet and train with some of the field athletes from his old training group, occasionally joining in for a few sessions at the track. He also ended up at Thorpe Park, playing brakeman on the dry bobsleigh run. However, despite being competitive with his times, Kevin weighed 110kgs and was too heavy for a four- or two-man bobsleigh (although he did use his bobsleigh experience to help out a British female crew with weight sessions in Wandsworth).
Meanwhile, work began to take off at Kevin's sign company. Then, between getting married and divorced, Kevin built an annex for his parents and a gym at home, filling it with a Concept2 rowing machine in 1999. Some years the rower got heavy use, but some years it didn't. During this time Kevin's weight yo-yoed from 100-140kgs.
Then, in 2006, Kevin started to get back into motorcycles. He says, "the last one I owned had been sold to pay for a fitted kitchen! But that's another story".
Just two years later, in 2008, Kevin was itching to have take his bike for a spin on a track. "My first track day was in Spain and part of 4 days on track. I was lucky to receive tuition from a wealth of experience including TT Motogp and BSB winners. All of my track day friends have become good biking mates to share an occasional beer and steak with".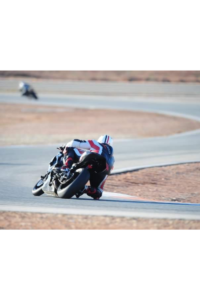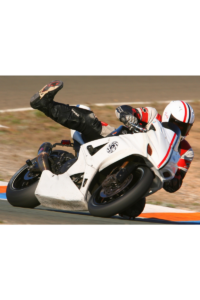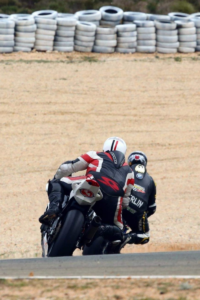 In 2009, Kevin began helping a young rider with his pre-season training. This got Kevin back into the gym and training three times a week. This work lead to Kevin traveling around various circuits during 2012 and 2013. Kevin says that this was a welcome break from being a full-time carer for his mother, who had been diagnosed with dementia in 2010. His father had died unexpectedly in 2006.
In the summer of 2016, Kevin left the Big Smoke and headed for the West Country, ending up in idyllic Somerset. For Kevin, him and the M25 were finished.
Sadly, Kevin's mother passed away at the end of the year.
After moving to Somerset, Kevin got married (an excellent opportunity for more wedding cake – he loves the stuff), bought four dogs and renovated three cottages (not to mention the two listed buildings still awaiting his attention!). This also gave Kevin the opportunity to begin using the Concept2 rower again. He even carried on when the PM3 monitor died, using a stopwatch instead and counting the strokes in his head.
Then, his wife Lorraine bought him a shiny new Concept2 rower for Christmas and Kevin's training went up a notch. He entered his first race in March 2020, but COVID-19 obviously had other plans for us all.
After a few million metres spent on the rower, Kevin contacted me for some advice in pulling together a comprehensive training plan for getting him into shape with a view to racing 2K. This plan began on 01 August 2020, with our aim to get him to the British Rowing Indoor Champs.
British Rowing Indoor 'Online' Champs 2020
The day finally arrived. On 05 December 2020, 38 competitors lined up in the men's 55-59 heavyweight age category from Sweden, Norway, Finland, Ireland, Italy, Australia, US and the UK.
Kevin stuck to his race plan and smashed out a personal best, achieving 2,000 metres in a fantastic time of 6 minutes and 51 seconds. This was 23 seconds faster than his previous race and placed him seventh overall – definitely a great performance from a great guy.
All the rowing, running, weightlifting and incredibly tedious stretching paid dividends for Kevin. He's now in a great place to take a small break and then resume training with the aim of winning a medal in 2021. With the raw power that this maturing athlete has, there is every chance that he'll succeed.
Watch this space for future accolades for this champion and the December 2020 Client of the Month, Kevin Horne. Not only is Kevin's story fascinating (and somewhat closely aligned to mine), but we support the same football and cricket teams – so how could we not get on!
I'm looking forward to having a drink (and a slice of cake) with you when we are allowed back out, Kevin! Well done and congratulations on being the December 2020 Client of the Month.