BRITISH RECORDS
3 British Records achieved on the Concept2 Indoor Rower for the 50-59 age group in 2019 whilst winter training for the British Rowing Indoor Championships.
First record was the British marathon indoor rowing record (42195m) in which I managed to shaved off 30 seconds. It took me 2hrs 38 mins 32.9 seconds with an average 500m split of 1:52.7. The worst part was the last 250m where I suffered cramp in both adductor muscles! A bit of encouragement from members at Stanza Fitness helped me over the line.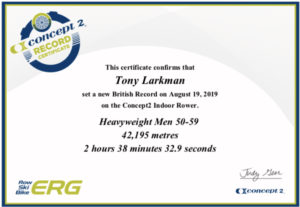 The plan is to break this marathon time in the spring of 2020.
Next one was 50-59 British 6000m indoor rowing record which I set in November where I took 9 seconds off the previous record. The time set was 20 mins 8.4 secs with an average split of 1:40.7. Again, at some point in 2020, I hope to break 20 mins for 6000m.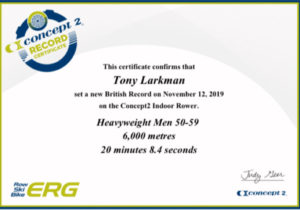 And finally, I beat the old half marathon record by 20 seconds over Christmas which was an unscheduled attempt. I think the extra food and rest helped. The 21097m took me 1 hour 14 mins 26.9 secs with an average split of 1:45.8.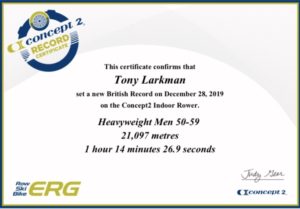 MIZUNO BRITISH ROWING INDOOR CHAMPS GOLD
In December, I ventured to the capital and raced in the annual British Rowing Indoor Championships at the Lee Valley Velodrome in Stratford, London. Over 1800 competitors took part at the London 2012 velodrome.
It is officially the largest indoor rowing event in the world. Athletes as young as 11 up to the age of 88 competed.
I entered the 50-54 heavyweight category and came away with a gold medal in a time of 6 mins 15.5 secs and setting a championship record in my age category. A very happy day and reward for the training that went into the race. (Although I feel a bit small in the middle)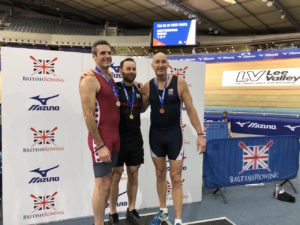 WORLD ROWING INDOOR CHAMPIONSHIPS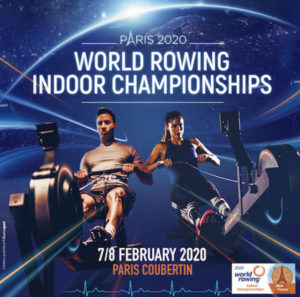 The next race is the world championships in Paris in early February. I'll be up against the best 50+ year olds in the world.
Watch this space for further updates and check out my instagram page to see how the training is going.