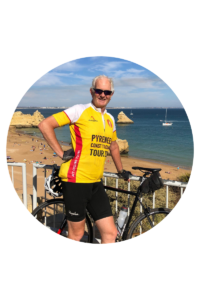 Introducing Edward, the September 2020 personal training client of the month.
An active 61 year old who took up cycling in 2017, Edward had already completed 2 epic cycle trips.
Land's End to John O'Groats (LEJOG), 982 miles of cycling from one end of the UK to the other. His other epic bike ride in 2017 was from Caen to Nice across 600 miles of beautiful hilly French countryside.
Pretty impressive but Edward wanted to improve his efficiency and speed on the bike.
Therefore, changes to his diet and programme had to be addressed. So in October 2019, Edward contacted me to help him address these areas.
EDWARD PRE 2020
In 2017, Edward who is 186cm tall (6 feet 1 inch), weighed 94kgs when riding LEJOG for the first time.
Edward then spent 11 weeks in New Zealand before returning to the UK in March 2018 weighing 97kgs. Straight back into distance training, Edward didn't see the weight losses he planned for as the increased training mileage also increased his appetite for sugary carbohydrates.
Following a cycling accident in August 2018 and during his recuperation, Edward read a book called 'Racing Weight'. He used this as a catalyst to reduce his body weight.
In September 2018 at 91kgs, Edward started to focus again on reducing his weight.
Edward had cycled 7700 miles that year but his weight was still yo-yoing.
In addition to weight fluctuations, Edward found his performance on the bike had not improved. To put it in Edward's words, "I felt that rather a lot of these miles had been junk miles as I did not feel my performance had improved much".
By January 2019, he had reduced his weight to 84kgs. At this point, Edward had a DEXA bone density body scan. The scan revealed 21.5kgs of fat and 62.9kgs of lean mass. His body fat percentage was 25.4%, at the top end of average for his age. Considering the amount of cycling Edward was doing, he was struggling to achieve a lean body.
By April 2019, he was below 77kgs. But by September 2019, his weight had gone back up to 83kgs. He had cycled 8823 miles in 2019.
When Edward contacted me about personal training last October, his weight was 83kgs.
EDWARD 2020
As a personal trainer, I notice peoples posture. The way a person holds themselves can reveal physical issues with imbalances and weaknesses.
Edward had a very typical cyclist posture. His upper back was kyphotic. He possessed an anterior pelvic tilt caused from tight and weak muscles.
His fast twitch type 2a and 2b muscle fibres were under developed resulting in a lack of power and strength on those big hills.
Flexibility was an issue with very tight hamstrings and hip flexors. Performing a bodyweight squat was impossible without lifting his heels up indicating mobility issues with the ankles.
The immediate plan was to correct these issues through a personal training programme of weights and stretching.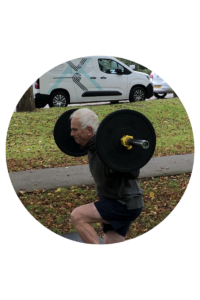 Stage 2 was designed around nutrition and eating healthy unprocessed natural organic foods, reducing simple carbohydrates and increasing fibre intake through vegetables. A focus on reducing meat intake with every meal was also suggested.
This was to be complimented with a 16/8 intermittent fasting regime to increase insulin sensitivity and improve health. In addition, the fasting would improve fat oxidation resulting in reduced body fat and improvements in endurance during long rides.
The final stage was to redesign his cycling programme. Edward was a mileage junkie. Miles makes champions right! Well, not necessary.
Changes to the programme allowed Edward to train smart. This allowed Edward's body to recover and adapt to the training stresses.
Planning and periodising Edward's programme ensured he would be at his best for his goal and the undisputed September client of the month award. By including smart training, nutrition and planning into the personal training programme, Edward was able to control his weight, increase recovery, develop fitness, build strength and ultimately improve performance.
In December 2019 and 6 weeks into the programme, Edward had a second DEXA scan to compare with the January results. The scan revealed 17.5kgs of fat (a reduction of 4kgs) and 61.9kgs of lean mass (a reduction of 1kg). Body fat percentage was 22.1% (down from 25.4%). His weight was 79.5kgs, a reduction of 4kg in 6 weeks.
The plan was to continue to reduce body fat but increase lean mass.
Edward's goals for 2020 have somewhat changed due to Covid-19, but one of the goals was LEJOG. In 2017, Edward cycled 982 miles from Land's End to John O'Groats. He averaged 13.8mph with 6,6136 ft of elevation over 13 days.
In June 2020, he cycled 1004 miles on LEJOG  with 68,665 ft of elevation over 13 days averaging 14.8mph. This included three days where he waited for his clients at the top of some very big hills. His average speed would have been 15.4mph had he not waited.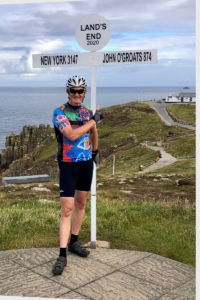 His mileage in 2020 has been slightly reduced due to Covid and smart training. The increase in high-intensity has seen Edward's sprint and hill climbing improve and this is where the biggest gains have been noticeable in his training logs.
Other improvements in strength, mobility, flexibility and a total weight loss of 10kgs have contributed to a 10% increase in performance over 2 years. Not a bad return for a man in his 60's. How can he not be the client of the month!.
THE FUTURE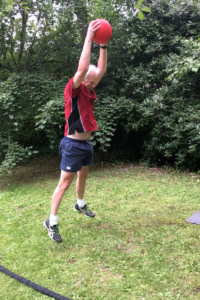 For 2021, Covid-19 permitting, he is planning to cycle 3 x 1 week tours. From Prague to Krakow and the Picos Mountains in northern Spain. Plus 2 x 2 week tours of the Outer Hebrides and northern Scotland. And of course, LEJOG again!
He already has goals for 2022. Again, Covid-19 permitting, Edward is planning to cycle the coast of England, Wales and Scotland. That's 4348 miles with a total elevation of 243,111 ft over 55 days.  And yes, LEJOG again.
Amazing endurance, commitment, dedication and achievement for a man who recently retired from work, but definitely not from life.
Hats off to you Edward. An inspiration to others and a undisputed winner of client of the month.